Auto Viscous Filter Unit
AFi's AVF-350 is a self-cleaning viscous air filter using a spinning curtain of metal screen as the filtering media. Behind the filter media roll is an endless roll of oil drop eliminator. When the filter media is loaded and the pressure drop increases, a totally enclosed thermally protected geared motor moves the filter media and oil drop eliminator which pass through a viscous oil bath located at the bottom of the filter. The viscous oil cleans the filter media and the oil drop eliminator ensures that the oil is not carried into the air stream. The slush collected in the oil bath needs to be cleaned periodically.
Boons
AFi's Auto Viscous filter is especially suitable for areas with high dust concentration like steel, chemical and cement plants.
Negligible Running cost.
Requires little or no maintenance for a prolonged period of time.
Available in a variety of standard and custom built sizes.
Usage Zone
Process Plants, Gas Turbines
Compressors, Diesel Engines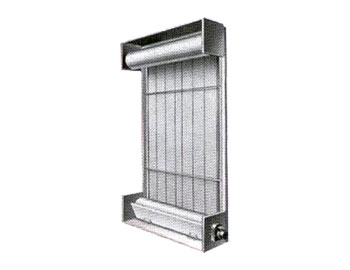 | | |
| --- | --- |
| Test Standard | EN779:2002 |
| Available Grades | G2 & G4 |
| Available Efficiencies | 45% - 65% |
For Detailed Product Brochure, Performance Data Sheet & TDS/ Drawings- Please Contact Us