TFM (Total Filter Management)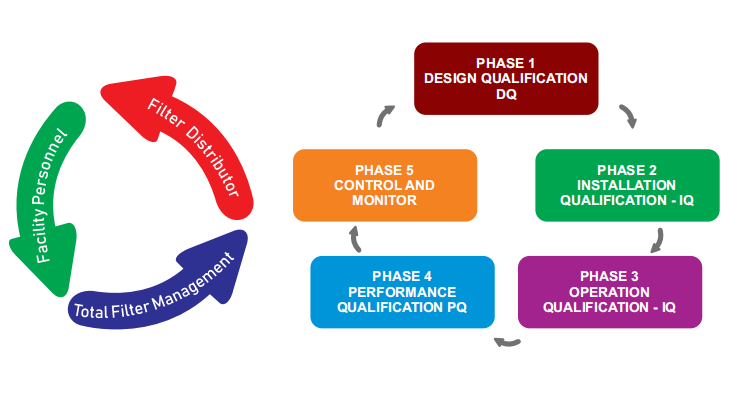 Our Total Filter Management program is a comprehensive approach to enterprise wide filter maintenance and managing your entire filtration program. AFi undertakes comprehensive supply and maintenance services, wherein the air quality is warranted, and AFi maintains the installation in a cost-effective manner, thereby providing the client with major annualized savings in terms of capital and running costs. The program was boosted with technical collaboration with few renowned foreign suppliers of filter media.
As your total filter management partner, we will help you develop an effective program of preventative filtration maintenance and reporting. Used now in the Automotive, pharmaceutical, food and beverage, Refinery & Petrochemical, Steel, Power Generation sectors it ensures worry free filtration management.
Program Features
Selection and supply of optimal performance filters.
Supervision of filtration system installation.
On-site validation of the installation.
On-site supervision of filter performance and air quality.
'Early bird' reporting of potential problems, to enable prompt corrective action.
Qualitative identification of contamination sources by microscopic analysis.
Our service team and guaranteed filter pricing structure are integral to the value you will realize as a total filter management partner.
With AFi as your single source filter supplier, we will ensure peak performance from all filters for improved productivity, minimal maintenance costs and low inventory costs, lower storage space requirements, and reduced overall filtration replacement expenses.
AFi TFM Goals
Eliminate the contaminating source in the air supply of an industrial facility.
Proactively monitor filters and equipment to circumvent potential problems.
Maintain an onsite / off site inventory of filters to ensure zero down time.
Maintain a dossier record of filter performance for each installation.
Partner with the client's quality control team for joint progress
AFi TFM Services
Preliminary survey of facilities: Identification of different filter systems across type, size and quantity, system design, review of filter history and reporting the findings.
Certification of the spray booth: Measuring air flow volume and pattern, temperature, humidity and contamination measurement, contamination profiling.
Monitoring of filtration system: Measuring the air flow across filters, particle collection efficiency, fitment integrity, resistance across filter.
Life cycle and energy cost analysis: Make research-led recommendations based on annual and life cycle cost and pro-active cost savings through filter purchase cost reductions, filter disposal savings, filter change labour savings and energy savings.
Inventory management: Create weekly/monthly inventory reports, track monthly usage and costs, store inventory logically, rotate stock, determine minimum and maximum levels and adjust inventory levels as needed.
Laboratory analysis capabilities: Contamination collected from source is analysed using advanced analytical equipment. Enlarged pictures of the contaminants (using polarised light / stereo zoom) help customers get a perspective of the contamination which is often not visible to the naked eye.
AFi Program Evaluation
Establish specific goals of the programme and review them periodically with customer.
Send contamination samples that need review to our overseas filter media suppliers (TE)
Annual appraisal of the TFM programme by our overseas filter media suppliers (TE)
On-site visit by our overseas filter media suppliers (TE)
Products