Bag-In-Bag-Out (BIBO System)
The AFi's Bag In Bag Out side loading isolation housing is designed to ensure that the service personnel are protected from coming in direct contact with the unsafe impurities during filter change. Designed to withstand +500 mm wc. Each HEPA filter cell is sealed against the housing frame and furnished with an individual door. A set of repression bags is shipped for use with each door. Once the initial filters are installed and the first bag attached, all filters, both dirty and new, are handled through the bag.
Boons
The AFi's 'BIBO' is designed to meet the air filtration needs of industries and research facilities that handle dangerous or toxic biological, radiological or carcinogenic materials.
A safe means for the removal and disposal of contaminated filter elements, while maintaining isolation during the installation of clean filter elements.
All AFi'a 'BIBO' isolation housings are fabricated from SS 304 and are pressure tested to exceed industry standards.
Usage Zone
CD ROM, Picture Tube, Manmade Fibre
Hazardous Chemicals, Computer Hardware Assembly, Aerospace Assembly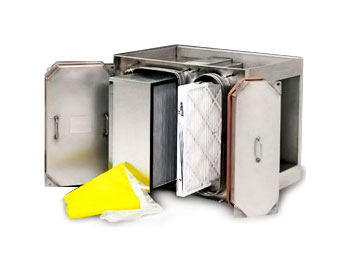 | | |
| --- | --- |
| Test Standard | ------ |
| Available Grades | ------ |
| Available Efficiencies | ------ |
For Detailed Product Brochure, Performance Data Sheet & TDS/ Drawings- Please Contact Us