FG Series Fiber Glass [M5-F9]
The Fiberglass Pocket filters are constructed of an ultra fine glass fiber media. The media is bonded to a thin non-woven synthetic backing and sewn with multiple rows of expanded stitching. The stitch is flexible to help maintain pocket shape in changing conditions. All stitching is sealed with thermoplastic resin to prevent any possible leakage. The header is constructed of 24 gauge galvanized steel to prevent rusting and provide rigid support to the filter face.
Boons
High Efficiency, Low Resistance
Precise Pocket Spacing, Aerodynamically
Available in a wide range of sizes.
Open throat design for optimum air flow.
Balanced Pockets & Galvanized steel header and J-channels for filter strength UL Class 2.
Usage Zone
Hospitals & Schools, Automotive Plants
Hospitals, HVAC Process Plants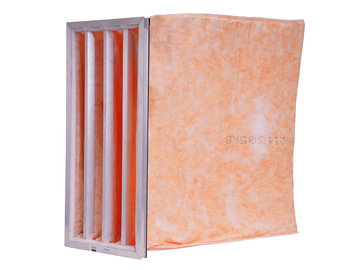 | | |
| --- | --- |
| Test Standard | EN 779 : 2002 |
| Available Grades | M5 - F9 |
| Available Efficiencies | 45% - 95% |
For Detailed Product Brochure, Performance Data Sheet & TDS/ Drawings- Please Contact Us