Cell Compact [M5-F9]
'AFi's Cell Compact' mini pleated filters offer substantial advantages over conventional deep pleat ASHRAE filters, not the least of which are higher flow capacities, less space, reduced resistance to flow, and greatly enhanced dust holding capacities. It serves as an excellent final filter for in air intake systems of combustion engines and as a final filter in HVAC systems.
Boons
Uses special grade micro glass fiber paper spaced with uniformly positioned hot melt adhesive beads to ensure optimum air-flow.
Compact design ensures short change time, Can resist high differential pressure drop Upto 100 mm wc.
Works perfectly under high humidity conditions.
Compact design enables system designers to make smaller filter house.
Works perfectly in turbulent, variable air volume and vibration in system.
Usage Zone
CD ROM, Picture Tube, Manmade Fibre, Hazardous Chemicals, Computer Hardware Assembly.
Air Separation, Polyester Film, GAS MFG, Aerospace Assembly.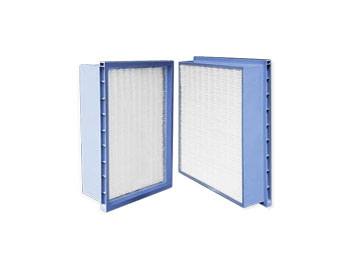 | | |
| --- | --- |
| Test Standard | IEST RP |
| Available Grades | M5 - F9 |
| Available Efficiencies | 65% - 95% |
For Detailed Product Brochure, Performance Data Sheet & TDS/ Drawings- Please Contact Us